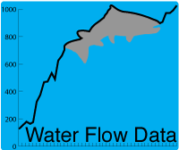 30-Day Water Flow/Storage Data for Morrow Point and Blue Mesa Reservoirs
Morrow Point Reservoir Data
The past 30-day plot of historic water management data for Morrow Point Reservoir. Data provided by the U.S. Bureau of Reclamation.
Blue Mesa Reservoir Data
The past 30-day plot of historic water management data for Blue Mesa Reservoir. Data provided by the U.S. Bureau of Reclamation.
---
Latest Status Report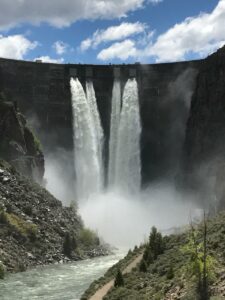 Last Updated: June 7, 2019
Aspinall Unit Reservoirs – As of June 6, 2019 releases from Crystal Dam are approximately 8,270 cfs with uncontrolled spillway releases of approximately 4,100 cfs. These releases are being made to attempt to achieve peak release targets as described in the Aspinall Record of Decision. This year the peak release targets for this year are to 14,350 cfs for 10 days measured at the stream gage located on the Gunnison River near Grand Junction, Colorado. As of June 7th, 2 days above the target threshold have occurred and forecasts indicate that 4 more days are possible. By June 10th, peak releases to achieve this target will have been made for 10 days. At that time releases are projected to begin ramping down. It is projected that releases from Aspinall will complete the ramp down by about June 19th. After this date, releases from Crystal Reservoir will be stable in the range from 1,800 cfs to 2,000 cfs.
Uncompahgre Valley Water Users Association is diverting approximately 885 cfs through the Gunnison Tunnel. Storage in Blue Mesa Reservoir is currently about 434,000 acre-feet which is 53 percent of full capacity. Storage is increasing rapidly.
The May unregulated inflow to Blue Mesa Reservoir was 214,368 af (157 percent of average). Unregulated Inflows to Blue Mesa for the next three months (June, July and August) are projected to be: 480,000 af (184 percent of average), 225,000 af (192 percent of average) and 82,000 af (130 percent of average), respectively.  The May 24-Month Study is reflective of these new forecasts.
Current projections indicate Blue Mesa storage will steadily increase as spring runoff begins.  Snowpack conditions in the Gunnison River Basin reached a peak that was well above normal at 143 percent of median above the Aspinall Unit.  Current projections indicate Blue Mesa will nearly fill by late summer if current inflow forecasts come to fruition.  The peak elevation for this water year will occur in or around late July and is projected to be about 7510 feet. The projected end of the water year 2019 elevation of Blue Mesa is 7500.8 feet which correspond to a live storage content of about 668,000 acre-feet (81 percent of full capacity).
The Aspinall Unit Working Group is an open public forum for information exchange between Reclamation and the stakeholders of the Aspinall Unit. The public is encouraged to attend and comments on the operations and plans presented by Reclamation at these meetings. Meeting notes from past working Group meetings are posted on the Working Group webpage. For more information on this group and these meetings please contact Erik Knight in the Grand Junction Area Office at (970) 248-0629.
---
Water Supply Forecast from the Colorado Basin River Forecast Center
---
Gunnison River Drainage Streamflow Data