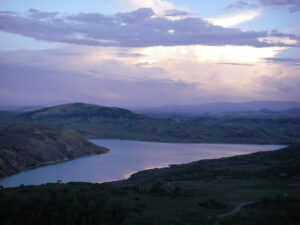 Blue Mesa Reservoir (elevation 7,519 ft ) is Colorado's largest body of water. Created by Blue Mesa Dam, Blue Mesa Reservoir is 36 mi long, has 96 mi of shoreline, and is the best trophy lake trout fishery in Colorado and the best Kokanee salmon fishery in the United States. Also home to Brown trout, Rainbow's, Cutthroat, Brookies, and Yellow Perch. Blue Mesa Dam was completed in 1965, becoming the first large dam built along the Gunnison River and is located in the Curecanti National Recreation Area, in Western Colorado. 
Guide Service Details For Blue Mesa Reservoir
GSO-Colorado Outfitter # 2480  & cua-cur 5300-032  Guided fishing trips on blue mesa are permitted with both Gunnison Sports Outfitters (GSO) and Lake Fork Marina. Gunnison Sports Outfitters has set the standard for professional guide trips on Blue Mesa. We are proud to be not only the first but also the premier guide service on the blue mesa. GSO is operated out of the famous "Gene Taylor's Sporting Goods" store in Gunnison so you know we have all the newest top quality equipment for you to use. Please feel free to stop by the store and visit with Andy or Ryan about booking your trip!
Trophy Lake Trout Trip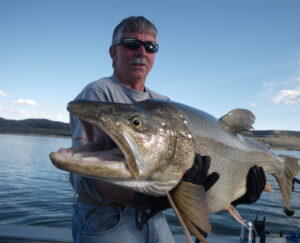 Why travel to Canada? I have what you want right here. We guide trophy catch and release Lake Trout on Blue Mesa starting at ice off (often mid-April) and will fish for these monsters throughout the entire season. Our focus of the trophy trip is BIG fish. 20 to 40+ pound fish can make their way into the net  and it is not uncommon to have multiple 20+ pound fish in a day. The trophy trip is about getting you a chance at the fish of a lifetime.     
---
Kokanee Salmon Trip                                                       
Blue Mesa Reservoir is one of the most productive fisheries in Colorado. The reservoir is vast at 9,000 surface acres and the water is pristine. The No. 1 fishery management priority is Kokanee Salmon. Blue Mesa is the best Kokanee fishery in the United States. Colorado Parks and Wildlife stocks more than 3 million fingerlings every year. That being said, book a trip and bring your cooler because with a daily bag limit of (5) fish per client you have a great chance at taking home some major pounds of amazing meat! I guide salmon trips all summer long typically fishing gets good as the water warms in May and I fish them into the fall months. Expect to hit the water early in the moring and fish our 4hr or 6hr trips. Trolling is the tactic, using lead core line and downriggers to get to the right depth. This is a fun action-packed trip that any skill level fisherman can enjoy and you get to go home with your catch!
---
Multi-Species Trip                           
Let's Just go fishing! Blue Mesa is home to Koks, Lakers, Browns, Rainbows and few more surprise. Let me decided what's on the chew and we'll go after em. Expect to troll, cast, and jig to earn you a variety of fish! Guiding this trip Ice out to Ice up, this action-packed adventure is a top seller and you leave the fish cleaning station with a haul of fresh fish to enjoy for dinner!
---
2023 GSO Season Pricing for Guided Trips 
Fishing Trip Rates

Standard Trip
4 Hours
Extended Trip
6 Hours
 1-2 People
 $350
1-2 People
 $425
 3 People
 $390
3 People
 $475
 4 People
 $430
4 People
 $525
 5 People
 $470
5 People
 $575
Large Party / Corporate Standard Trip
$300 Per Boat Rental Fee + $40 Per Person
(6 Or More People. Limit 6 People Per Boat)

Large Party / Corporate Extended Trip
$300 Per Boat Rental Fee + $50 Per Person
(6 Or More People. Limit 6 People Per Boat)
 Kids 12 and under are FREE!
 *All patrons of Gunnison Sports Outfitters must fill out the electronic Assumption Of Risk form prior to their trip.  Please tell your guide as soon as possible if you have trouble filling out this form.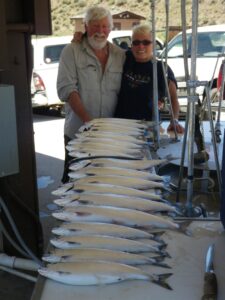 Call for info on larger parties, half day trips, multi-day trips, and evening trips. All trips include all the fishing equipment and tackle needed, boat, guide, and drinks. 
What to bring: A valid CO fishing license (16 and older), any food/lunch you may want, sunglasses, camera, cooler for taking fish home, proper clothing for current weather and a good attitude.